Detta är en SSL
Certifierad Butik



Här handlar Du
Säkert och Tryggt
Prenumerera på
vårt nyhetsbrev

Produkter» Paddar» Acavallo Wave Pelham Sensitive Bit
Acavallo Wave Pelham Sensitive Bit
Acavallo Wave Pelham Sensitive Bit 12,5 cm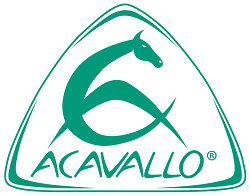 The innovative bit is made of a new-concept antiallergic plastic material instead of a heavy and cold metal alloy.
Thanks to the integrated and flexible steel reinforcement, this bit offers a soft but very safe control of the horse.
The one-piece design of mouthpiece and rings prevents a one-sided squeezing or pinching of tongue or yaws, as well as painful irritations of the palate.
The multitude of small "waves" with which it is composed, is a real help when working with horses with hardened or naturally special and sensitive mouths.
Thanks to the wavy shape, horses learn to not push or lean on the bite.
This comfortable positioning increases the horse's confidence in the rider's hand, thus helping him to find the ideal balance.
Artikelnr: AC797A
Välj storlek
Relaterade artiklar och tillbehör